Notable features of the Villa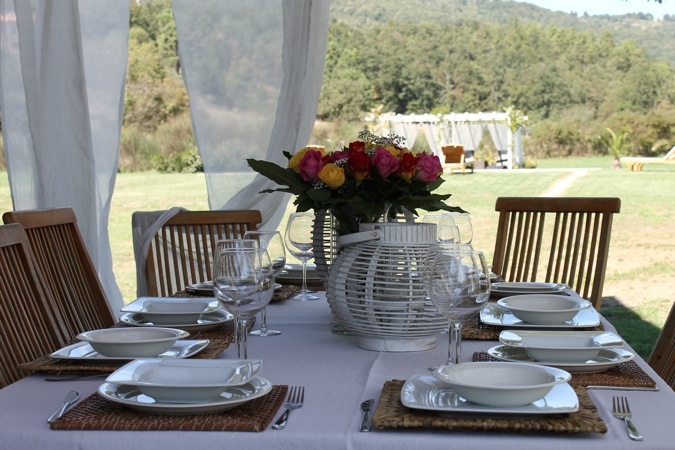 -Private entrance of the property
-Formal dining room for up to 10 person
-a spacious living room
-a modern equipped kitchen
- 5 nicely decorated bedrooms:
4 on the first floor with en-suite bathrooms, 1 with fireplace on the ground floor with bathroom not en-suite
-a splendid outdoor wood burning oven for delicious pizzas and grills
-a salt water swimming pool and garden equipment in original teak
-air conditions and heating
-satellite tv, cd and dvd player
-2 dishwashers, 3 refrigerators, 3 freezers, microwave and expresso machine
-internet wifi , water , gas
-garden and pool maintenance
-Not included in the rental:
Electricity
Telephone
Animals are not admitted
Additional services
Residenza al principe has appointed the Villa service company VeryConcienge (www.veryconcierge.com)
History
Our
This tuscan retreat owes its charming name to the place where it is set and called by the locals Al Principe.
The greeny valley that surrounds the property has a fanciful misterious name as well: "La valle del Canto" (the valley of the sweet song).
It's hard actually to trace back the origin of such important epithets. The history of Lucca is a shrine of culture and traditions but it's also peppered with legends and old stories. The area nearby the Villa between the River Serchio and the Castle of Nozzano was already famous some centuries B.C. when the Romans arrived and built their fabulous private Villas (Domus) and their military settlementes. The fertile valley, the navigable river, and the lavish wooded hills made certainly all that possible!!
So, the "Valle del Canto" was dotted with luxury homes, thermal baths, vast agriculture fields and streams and small rivers that romantically bathed this land. On the other hand the "Residenza al Principe" may refer also to an important Major General of the Italian Army that in more recent times mad this Villa it's private exclusive summer residence! Anyway whatever the truth is, the place "Al Principe" is certainly one of the most fanciful fascinating one.